It is a terrible thing for a sheep to go astray
It is a terrible thing for a sheep to go astray
In Lancefield in Victoria last year, some people found a lost sheep. This sheep had once belonged to someone, but she had obviously been living by herself for several years. She looked like this: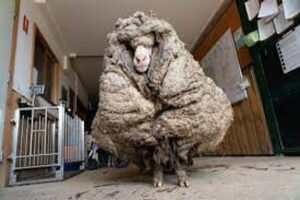 Those who found her called her Baarack.
No-one knows how Baarack came to be the way she was, but it was obvious that she was not being looked after. Merino sheep do not shed their wool, so if they are not shorn regularly, their wool gets heavier and heavier. Life would have been difficult for Baarack, and if not found soon, she would have died. The weight of the wool would restrict her movement and she would die of starvation.
This is a great illustration of what Jesus spoke about in Matthew 18:
12 What do you think? If a man has a hundred sheep, and one of them has gone astray, does he not leave the ninety-nine on the mountains and go in search of the one that went astray? 13 And if he finds it, truly, I say to you, he rejoices over it more than over the ninety-nine that never went astray. 14 So it is not the will of my Father who is in heaven that one of these little ones should perish. (Matt. 18:12-14 ESV)
In context, the sheep that went astray in Matthew 18 wandered off due to sin. We've all seen that happen; maybe at some point, it happened to us. Christians can find sin so attractive and get so caught up in it that they wander from the church family. Initially, they might feel free: they can do what they want to do! Yet the person in this position has no idea of the trouble they are actually in. Sin entangles so easily, and we lose our passion for God and his people, and we need help.
Baarack probably thought it was a great adventure when she wandered off from her flock. Yet, fast-forward a few years, and that freedom was shown to be a massive problem. With no-one to look after her or encourage her, she was close to death. Not long after her rescuers took the photo above, she was shorn and returned to a flock, looked after once more.
Don't fall for the lie that indulging in sin doesn't matter so much and you can handle it. Don't believe it when you tell yourself that no-one needs to know about your sin and it'll be OK. Sin is far more dangerous than we think and it is not to be messed with. You need the rest of the flock, and you need to stay with the Shepherd.