Book reviews: evangelism and men and women in the church
Book reviews: evangelism and men and women in the church
I have read two short, simple books that have been greatly encouraging and helpful. I warmly commend them to you as worthy of your time.
How to Talk about Jesus (Without being THAT guy) by Sam Chan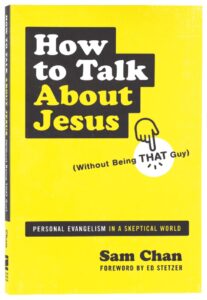 I have read many books on evangelism. Some of them have been deeply theological, explaining our role and God's role and the gospel in great length. Some of them seem great for people especially gifted in evangelism but not everyone. This book has become my favourite practical book on evangelism, giving realistic and helpful ideas for how we can all be involved.
Sam Chan is Australian and this comes through in a very helpful way. He understands the culture here which is wildly different from the USA context. And he has experience with actually doing evangelism both personally and as part of his job.
This is really a book of evangelistic tips. Some of them are obvious and helpful like the observation that if you go to the things of your non-Christian friends, it won't seem weird when you invite them to your things. Some of them might change the way you think about reaching your friends, such as the model expressed in coffee, dinner, gospel.
I am quite an introvert, so some of the suggestions I think I might struggle with. But as someone who has tried to speak to people about Jesus in different ways for a long time, I learnt a lot and was encouraged through reading this book. It's short, easy to read, and immensely practical.
Men and Women in the Church: A Short, Biblical, Practical Introduction by Kevin DeYoung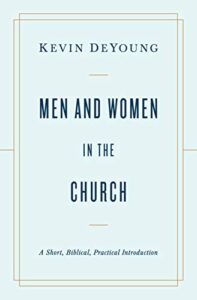 I read everything Kevin DeYoung writes. I have found all of his books practical, helpful and clear. So perhaps I don't come to reviewing this book in an unbiased way, but his latest book is one I am happy to recommend.
The issue of men and women in the church is fraught with controversy. Some churches allow female deacons, some do not. Some allow women to preach, some do not. And at its core is how we understand the Biblical teaching on this issue.
DeYoung states up front that he intended this book to be for an ordinary Christian audience and not be a 'door-stop'. In other words, it needed to be short enough and simple enough that someone who is not a big reader or a scholar can understand it. I think he has achieved that. Yes, the argument does get a little technical at times as he carefully works through the controversial New Testament passages. But the argument is sane, clear and practical.
A strength of this book is that it doesn't only look at the few controversial passages. It also considers the relationship between men and women in the Bible more generally. His Old Testament survey of male and female issues was a highlight for me. The focus is not only on what women cannot do but the critical ministry women do throughout Biblical times and today.
If you are grappling with these issues and want to know what the Bible teaches on men and women in the church, this is the ideal place to start.